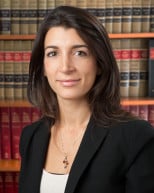 Libby O'Brien Kingsley & Champion, LLC is pleased to announce that Tara A. Rich has joined the firm as an Associate Attorney. Tara's practice focuses on civil and criminal litigation in a wide variety of cases including family law, employment law, property disputes, personal injury and criminal defense. Tara joins the firm after having spent the past two years serving as a Law Clerk for the Honorable Joseph M. Jabar, Associate Justice of the Maine Supreme Judicial Court.  She is admitted to practice in both Maine and Massachusetts.
Tara graduated cum laude from Georgetown University in 2007 with a Bachelor of Arts degree in Russian Studies and Government and subsequently earned a Master's Degree in Comparative Constitutional Law from the Central European University in Budapest Hungary in 2009. Thereafter, she attended the Tulane University Law School, from which she graduated cum laude in 2012. Tara is active in the legal community and is a member of the Maine, York County and American Bar Associations.
Libby O'Brien Kingsley & Champion, LLC believes that Tara's addition to the firm will strengthen our ability to continue to provide our clients with the highest level of legal services.