Libby O'Brien Kingsley & Champion, LLC has licensed attorneys in Maine, Massachusetts and New Hampshire. While the firm's original and primary office is located in Kennebunk, Maine, the firm also has offices in Portsmouth, New Hampshire and Burlington, Massachusetts in order to better serve the needs of our clients in the Portsmouth/Seacoast Area and Greater Boston Area.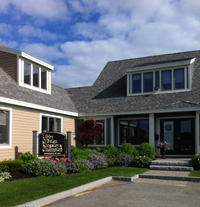 Kennebunk Offices:
62 Portland Road, STE 17
Kennebunk, ME 04043
Phone: 207-985-1815
Fax: 207-985-7817
> Get Directions
We appreciate that you have visited our website to learn more about our firm and the services that we provide. If you have any questions, or if you would like to contact us about a legal matter, please call our office that is closest to you, contact one of attorneys by using the email link on his or her individual attorney page.