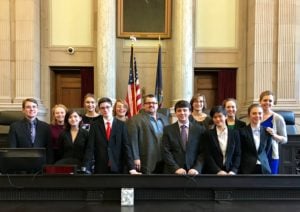 Congratulations to the members of 2016 Kennebunk High School Mock Trial Team for their stellar performance in the State Finals of the Maine High School Mock Trial Competition. The team, ranging from freshmen to seniors, was led by teacher coach Tom Dupuis of Kennebunk High School and attorney coach Paige Streeter of Libby O'Brien Kingsley & Champion. This was Attorney Streeter's first year participating in the high school mock trial program as a coach, but she has participated in the past as an evaluator.
The students worked tirelessly since August to prepare their mock criminal case for trial, portraying attorneys and witnesses for both the prosecution and defense. The high school mock trial program is an extracurricular program in which students can compete at regional, state, and national levels. It teaches not only legal skills and techniques, but also develops critical thinking, public speaking, and many other valuable skills. The competitions are evaluated by local judges and attorneys.
The Kennebunk High School Team moved swiftly through the regional competition and into the semi-final competition for the first time in school history. The team won its semi-final round and moved on to compete in the Maine State Finals against the reigning champion – Cape Elizabeth High School.  For the first time in school history, Kennebunk High School finished in second place in the state.
The team's intelligence, dedication, and true talent are quite remarkable. Coach Dupuis, Coach Streeter, and the rest of the team could not be more thrilled with their performance and are looking forward to next year!